Most Americans believe that nicotine vaporization products are the cause of the recent vapor-induced lung injuries that killed 60 people and hospitalized more than 2,700 more, but only 28 percent of the public understand that illegal, counterfeit THC vapor cartridges, not nicotine products, are responsible for the injuries, according to a recent survey by Morning Consult.
The survey, published last week, measured the beliefs of 2,200 adults in the last week of January. Morning Consult conducted a similar survey in September last year, when the outbreak of lung injury was just reaching its peak. Both surveys show a two percent error rate.
Mehr Menschen glauben nun, dass nikotinhaltige Wickelprodukte die Lungenverletzungen verursacht haben als im letzten Herbst. Im September glaubten 58 Prozent der Befragten fälschlicherweise, dass "E-Zigaretten wie Juul" für die Verletzungen verantwortlich seien. Im Januar war die Zahl auf 66 Prozent angestiegen. Und der Prozentsatz, der zu Recht THC-Vaping-Produkte verantwortlich machte, sank von 34 auf 28 Prozent.
What has changed between September and the end of January?
The answer is obvious: more people have heard and believed the wrong messages from the Centers for Disease Control and Prevention, either directly from the CDC or filtered through uncritical media coverage of the agency's findings.
the agency never definitely believed that an additive used in illegal THC cartridges was the only logical cause of lung injury. vitamin e-acetate is a thick, oil-soluble, tasteless and odorless substance that is ideal for diluting cannabis oil. since THC cartridges on the black market are never tested for effectiveness in the laboratory, consumers cannot tell if the products they bought were 90 percent hash oil or 50 percent - or even less. unscrupulous cannabis processors doubled or tripled their money by cutting the oil in the carts they sent to street vendors. it would have been perfect except for one thing: inhaling vaporized vitamin e-acetate can kill you.
Even before Leafly published its first story about vitamin E acetate in black market THC oil cartridges on August 30th, there was ample evidence that the outbreak of lung injury was caused by something in black market THC oil cartridges, and when the Leafly story appeared, only one person had died and 215 had been hospitalized.
Had the CDC decided at that time to issue a bulletin warning all cannabis vapers that they were risking their lives by using illegal THC cartridges, it would have been circulated in every newspaper and on every radio and television show in the country. Word would have spread quickly. Instead, the agency played a game of dancing around the truth, and unsuspecting cannabis oil dealers continued to fall ill and die for months.
The CDC deliberately avoided using the terms actually used by the cannabis oil papers to describe the products that cause the lung injuries, and instead the health authorities misled the public by suggesting in their communications that nicotine patch products were at least partially responsible - and continue to do so. 
Tatsächlich hat die Agentur von Anfang an versucht, den Begriff "E-Zigarette" mit dem Ausbruch in Verbindung zu bringen. In ihrem Gesundheitsalarm vom 30. August für medizinische Fachkräfte verwendete die CDC den Begriff "E-Zigarette" 45 Mal, obwohl es keine harten Beweise dafür gibt, dass Nikotinprodukte auch nur für eine der Lungenverletzungen verantwortlich waren.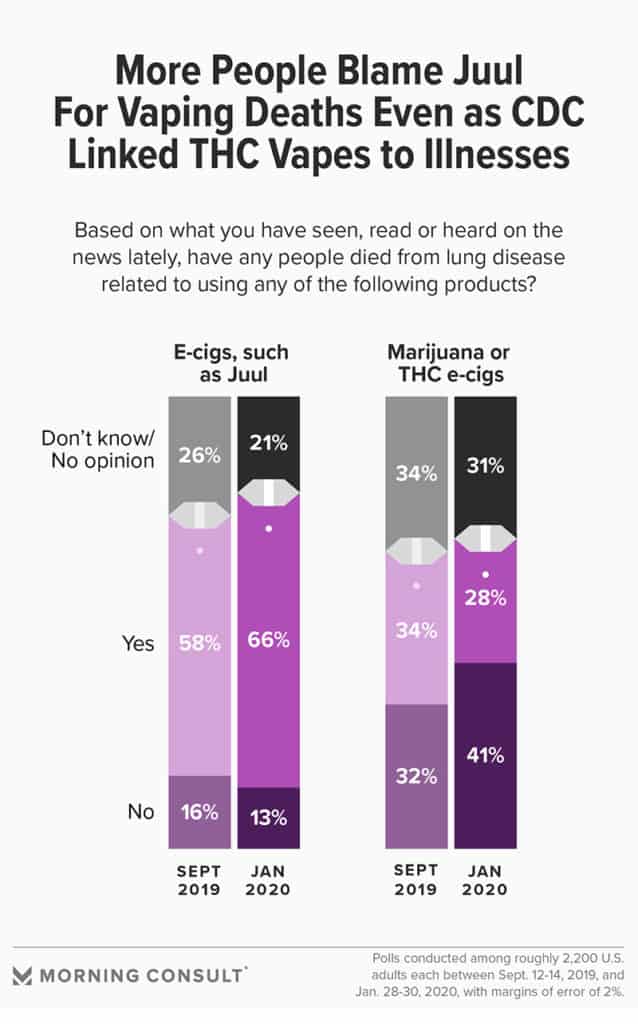 Als die CDC-Beamten beschlossen, den Lungenverletzungen einen eindeutigen, einprägsamen Namen zu geben, wählten sie "E-Zigarette oder Vaping, product use associated lung injury" ("EVALI"). Die Schöpfer des zusammengeschusterten Begriffs setzten "E-Zigarette" absichtlich ganz vorne auf den Namen. Die Botschaft war klar: E-Zigaretten können einen töten.
Der Begriff "E-Zigarette" wird von allen Zeitungen so verstanden, dass er sich nur auf Nikotinprodukte bezieht. Trotz eines ähnlichen Verdampfungsprozesses sind Cannabisöl- und Nikotin-Vaporisationsgeräte nicht austauschbar – und auch nicht die Begriffe, mit denen die beiden Arten von Vapern beschrieben werden.
Cannabisöl-Vaper nennen ihre Produkte niemals "E-Zigaretten".
THC oil strips are pre-filled cartridges containing one gram or less of honey-like cannabis oil, and are all referred to as vape-carts, THC cartridges, hash oil carts, vape pens, oil vapes, or a variation of these terms. e-cigarettes are not used to vape cannabis oil.
Eine wirksame Vermittlung der öffentlichen Gesundheit erfordert die Verwendung einer Sprache, die von der Zielgruppe verstanden wird. Durch die Verwendung von "E-Zigaretten" zur Beschreibung von THC-Produkten bewies die CDC, dass sie sich wenig Sorgen um das Wohlergehen der Cannabiskonsumenten macht, die die unmittelbaren Opfer von "EVALI" waren. Und indem die Agentur allen Zeitungen riet, die Verwendung von "E-Zigaretten" einzustellen, zeigte sie auch, dass sie sich nicht um die Millionen von Nikotin-Zeitungen kümmert, die Gefahr laufen, zu brennbaren Zigaretten zurückzukehren.
The CDC was so far away from the real dangers that representatives and activists of the legal marijuana industry did their best to bypass the federal authorities and warn the cannabis vapers on their own; Leafly, Merry Jane, and the Marijuana Times all published articles warning cannabis oil dealers of the dangers of black market products.
In early October, more than 800 legal cannabis companies and the National Cannabis Industry Association sent a letter to Congress begging for federal cannabis regulation. And in the face of the CDC's inaction, the California section of the advocacy group NORML issued its own warning to the THC Vapers. Even former FDA commissioner Scott Gottlieb has reprimanded the CDC for its imprecise language and ruthless anti-vaping position.
In December, as the CDC slowly withdrew from its warnings that people should avoid all vaping altogether, the agency never clearly identified the danger as adulterated black market TC cars. The CDC never ran a clear, understandable information campaign to reach the most vulnerable people, and now 60 people are dead and hundreds or thousands more will suffer long-term lung damage.
"Die anfängliche Panik über die mit dem Ausdünstungseffekt zusammenhängende Krankheit hat für Furore gesorgt, aber die aktualisierte Schlussfolgerung hat sich kaum in den Hauptnachrichten bemerkbar gemacht", sagt Sara Wilson von Morning Consult. Aber die CDC hat nie wirklich eine Schlussfolgerung herausgegeben oder ernsthafte Anstrengungen unternommen, um den Bericht offen zu korrigieren.
Rather, the CDC has only tilted its low point of uncertainty a few degrees towards the truth and allowed dribs and drabs to spread, and as recently as January 17, the agency published the advice of its scientists to avoid all products that spread to the public.
"Während die Untersuchung weitergeht", schrieben sie, "empfiehlt die CDC, dass der beste Weg für Personen, um sicherzustellen, dass sie nicht in Gefahr sind, der Verzicht auf alle E-Zigaretten oder Vaping-Produkte ist".
We can only assume - after months of evidence - that the CDC's goal all along was to scare as many people as possible from vaping. The agency used all its resources and all its credibility to convince the vapers to give up e-cigarettes. The CDC was willing to risk the lives of millions of cannabis users to achieve its goal of a nicotine-free society.
The deliberate merging of the two types of vaping products by the CDC has almost certainly resulted in injuries and deaths from THC vaping that would not have occurred if the agency had instead opted for a clear, unambiguous message strategy. In addition, the confusion has caused thousands, or perhaps hundreds of thousands, of nicotine vaporizers to drop their e-cigarettes and return to burnable tobacco.
Worst of all, there is no telling how many of the nation's 34 million smokers will now continue to smoke cigarettes instead of switching to vaping, which is far safer by all objective measures. According to the CDC, half of long-term smokers die prematurely - and many more suffer from serious diseases such as cancer, heart disease and COPD.
Die Morning-Consult-Umfrage ergab, dass unglaubliche 74 Prozent der Amerikaner inzwischen glauben, dass E-Zigaretten "genauso oder schädlicher als" das Rauchen von Zigaretten sind. Diese Zahl ist um mehr als 50 Prozent höher als im Juni 2018, als das Meinungsforschungsunternehmen die Frage zum ersten Mal stellte.
Among those people who believe that Vaping is as bad as smoking - or worse - are not only the smokers themselves, but also friends and family members who will now urge and nag their loved ones to avoid Vaping, and they will do so because they believe in the message of the nation's public health advocate: CDC.